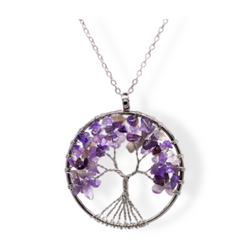 Amethyst Tree of Life Necklace
A hand-crafted tree of life necklace with leaves of Amethyst on the branches

Amethyst is a natural tranquilizer, it relieves stress and strain, soothes irritability, balances mood swings, dispels anger, rage, fear, and anxiety. Alleviates sadness and grief, and dissolves negativity. Amethyst activates spiritual awareness, opens intuition, and enhances psychic abilities.

20-inch (50-cm) chain
Be sure to check out our crystal wisdom guides to increase your knowledge and grow your passion for beautiful crystals.
The delivery times shown below are based off of real-time delivery results. Over 95% of orders arrive much sooner than the times listed below, typically 8-12 Business Days.
| | |
| --- | --- |
|  United Kingdom |  6-12 Business Days |
|  Canada  |  8-15 Business Days |
|  Australia |  6-12 Business Days |
|  United States |  6-12 Business Days |

**During the Covid-19 Pandemic these times may be a bit longer.

Orders under $30.00 in value are $3.79 Shipping & Handling
Orders over $30.00 in value are delivered for free.
Each order includes tracking information which you will be updated with once the item is shipped out for delivery.

A NOTE ON HOLIDAY ORDERS: 
As the holidays approach, we expect increased order loads and therefore longer processing and shipping times. If you plan to order from us for the holidays, please place your order as early as possible to ensure it arrives on time. We cannot be held responsible for late orders!

If you have any questions about your order, please contact us.